IMPORTANT INFORMATION
We hope all our customers, old and new, are safe and well.
We are working under the following new arrangements:
• Our Reception will regrettably NOT be open to visitors; however we still have a 'Drop Off and Collection Point' at the front of our premises.
• Our incoming phone lines are open 10.00am to 1.00pm and 1.30pm to 3.00pm, Monday to Thursday only.
We wish you and yours all the best and hope you can stay safe. We have been in business for 33 successful years and we look forward to serving you for another 33 years!
The Church Cushion Co. Team
Quotations & our

FREE Sample Pack
Over the many years, we have dealt with Churches all over the U.K.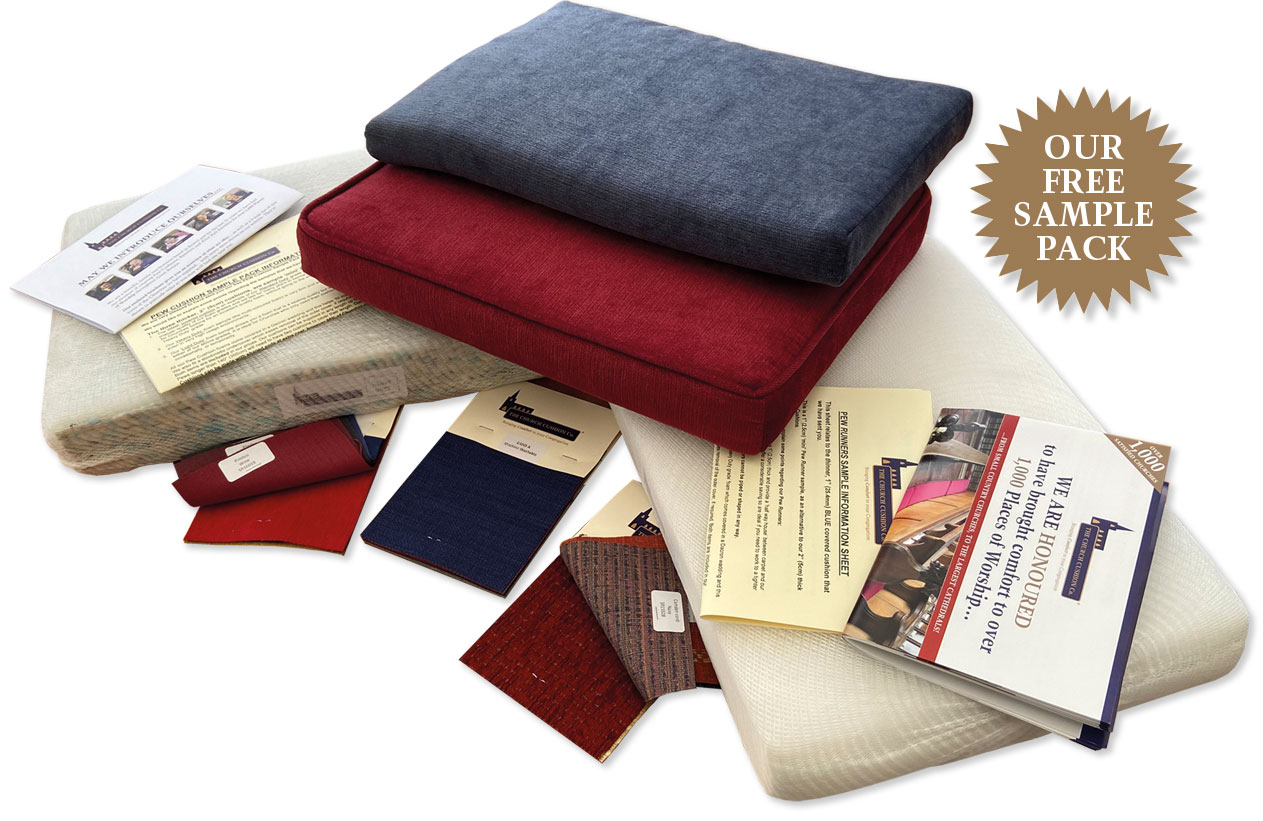 We have learnt that the potential purchase of cushions is often very much a 'Committee' decision. Our 1-2-3 method of answering your valued enquiry is designed to help you and your Committee or P.C.C. evaluate our products and prices as easily as possible:
1
GIVE US A CALL on Freephone , click here to use our online form, or drop us a line at to say that your Church may be interested in our cushions. We will then send you, free of charge and without any pressure or obligation, a Sample Pack relevant to your enquiry, for you to show your Committee the standard of our workmanship, and to try out our cushions for comfort! We will also send you a wide selection of fabric samples suited to your needs.
2
AT YOUR CONVENIENCE, let us have approximate sizes for the cushions you have in mind and we will send you a written Quotation. This Quotation is valid for 12 months, as we realise Committees often have many items on their Agendas, not just the purchase of our Church cushions!
WE ARE HERE TO HELP AND ADVISE AT EVERY STAGE!
3
WHEN YOU ARE READY, if you decide to favour us with an order, we will not require ANY payment in advance, simply a written Order. We will discuss lead times with you to ensure we meet any deadline you may have.
Delivery & PAYMENT
Your order will then be acknowledged and arrangements for delivery confirmed. ALL orders over £100 Exc. VAT are delivered free of charge to the U.K. Mainland. After delivery we will then simply invoice your Church for the total cost, as shown on your original Quotation.
OUR CUSHION GUARANTEE
By using top quality foams and fabrics and taking great pride in our workmanship, our cushions are designed to serve your Church very well for many, many years to come. We back this up by giving a 10- year guarantee on all our Church Cushions.
Thank you for taking the time to read about our services. We would love to bring Comfort to your Congregation, so we look forward to your initial enquiry. Whether it be for 1 cushion or 100, we promise you a friendly, informative response, all given in a no-pressure, professional manner.