IMPORTANT INFORMATION
We hope all our customers, old and new, are safe and well.
We are working under the following new arrangements:
• Our Reception will regrettably NOT be open to visitors; however we still have a 'Drop Off and Collection Point' at the front of our premises.
• Our incoming phone lines are open 10.00am to 1.00pm and 1.30pm to 3.00pm, Monday to Thursday only.
We wish you and yours all the best and hope you can stay safe. We have been in business for 33 successful years and we look forward to serving you for another 33 years!
The Church Cushion Co. Team
Church Pew Cushions & Runners
From 1 cushion… to 1,000 cushions… we're happy to help!.
OUR CHURCH PEW CUSHIONS
Over the years, we have been asked to make Pew Cushions in pretty much every size, shape and quantity that you could imagine! Whichever fabric you choose, from the many sample swatches we send you, we use the fabric all the way around the cushions, thus making them reversible.
We always fit a full length zip to our pew cushions, meaning the covering can be easily removed if necessary. Our most popular fabrics are also machine washable and can be removed for cleaning – an aspect that many Churches have found very appealing!
Piped cushions
Optional Piping is available around the edges of our cushions. If you wish, we can also embroider the name of a loved one who has passed away, or the names and date regarding a special occasion like a wedding, onto particular cushions.
Shaped Cushions
We can also make bespoke Shaped Pew Cushions to meet whatever requirements you may have. Over the years we have been asked to make cushions in a myriad of shapes and sizes, and… we've always risen to the challenge!
OUR CHURCH PEW RUNNERS
If you have no cushions at all at present, or perhaps just 'carpet runners', then our Pew Runners provide a 'half way house' towards our full depth traditional Pew Cushions.
Our Pew Runners are 1 inch thick, available in many colours, and offer a significant saving compared to our Pew Cushions. We'll happily give you more details on request.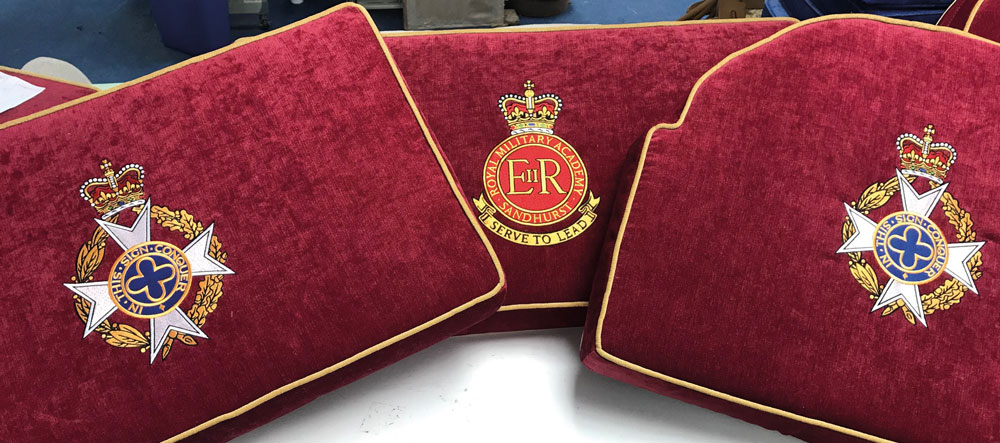 CONGREGATION CHAIR CUSHIONS
Our in-house team of dedicated machinists can also make new cushions for Congregation Chairs.
These can be made in a variety of fabrics including our washable range.
INDIVIDUAL CHAIR CUSHIONS
We have often been asked to make individual cushions for Bishop's Chairs, Organ Stools, etc. These can be made any size, in a wide range of fabrics and the minimum order… is just one!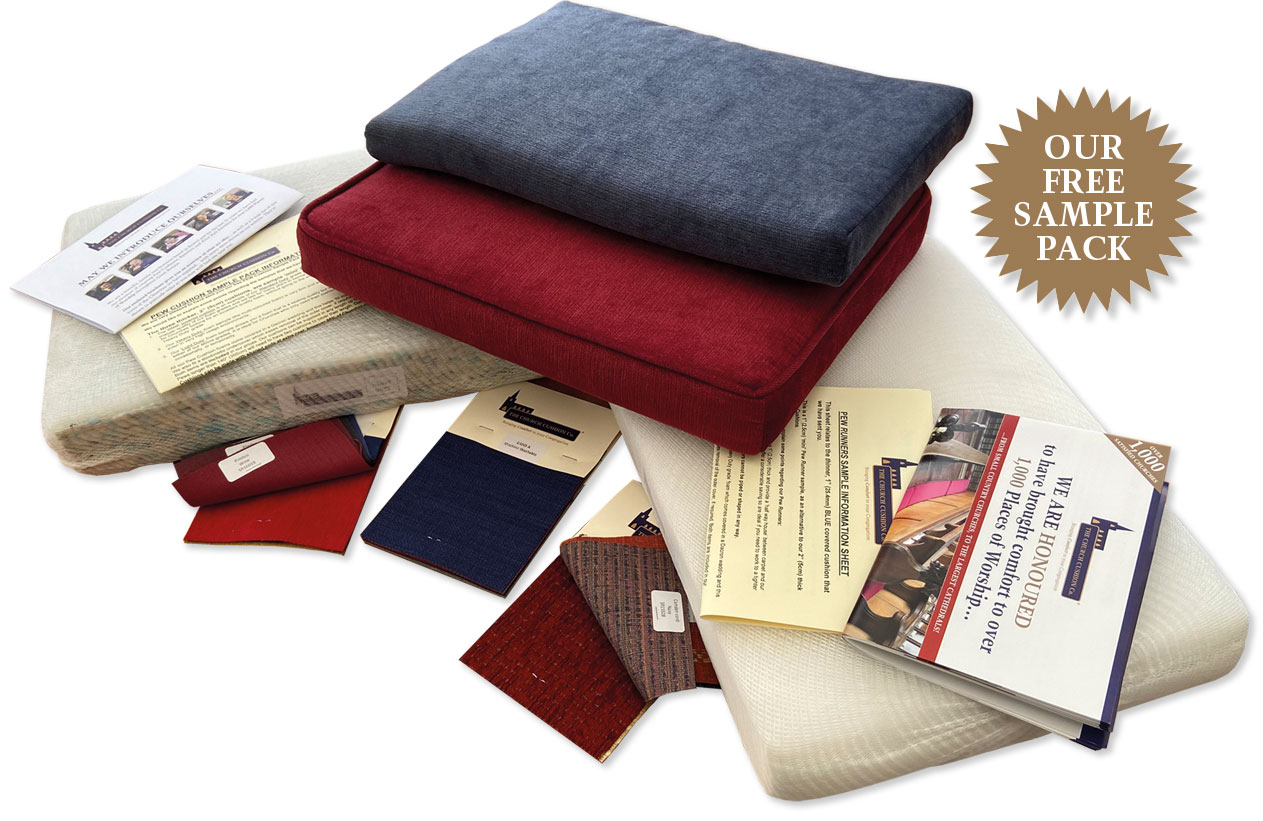 We will be glad to supply you with a Free Sample Pack to make it easy to for you to present our cushion and fabric options to your Church Committee. Please click here for more information on how to obtain one.