Our incoming phone lines are open 10.00am to 1.00pm and 1.30pm to 3.00pm, Monday to Thursday only, however, we are all here working full, normal hours, i.e. 9.00am to 5.00pm Monday to Friday, so if you need to email, or leave a voicemail, we will gladly respond promptly.
Recent Church Cushion Orders
Below are a selection of photographs showing recent orders of pew and church cushions completed for satisfied customers. We hope that if you have Church Pew Cushions, Kneelers, Hassocks or Runners made for your establishment, we will be able to add your own items to this page!
Kings College Chapel, London. (Above) We were honoured to have recently supplied made-to-measure pew cushions for the whole of Kings College Chapel, a beautiful Grade 1 Listed Building on The Strand in central London. We had a tight deadline to meet, in order for the order to be completed aheadof their world renowned International Byron Conference. We all 'burnt the midnight oil' to finish the order in time and we are pleased to say everything was safely delivered with time to spare! "Thanks again for the good work on the pew cushions which have really enhanced chapel" These were the comments kindly written to us after delivery, by The Revd. Tim Ditchfield, College Chaplain.
Many of our Church orders take many months to be confirmed! When Babington House (Above) in Somerset first contacted us Winter was still very much in evidence… By the time their order was confirmed, Summer was well and truly here, as these images show very clearly…
Their beautiful Chapel provided us with some very complex cushion shapes for us to create. Luckily our cutters and machinists like a challenge – or so we keep telling them! This 'reverse curve' pew seat was carefully templated and the resulting finished cushion fitted like a glove, we're very pleased to say…
We can make whatever shape and size cushions your Church may require. This one was for a tiny seat at the base of the Pulpit. The beautifully restored interior of the Chapel now has the added comfort provided by a complete set of made-to-measure cushions.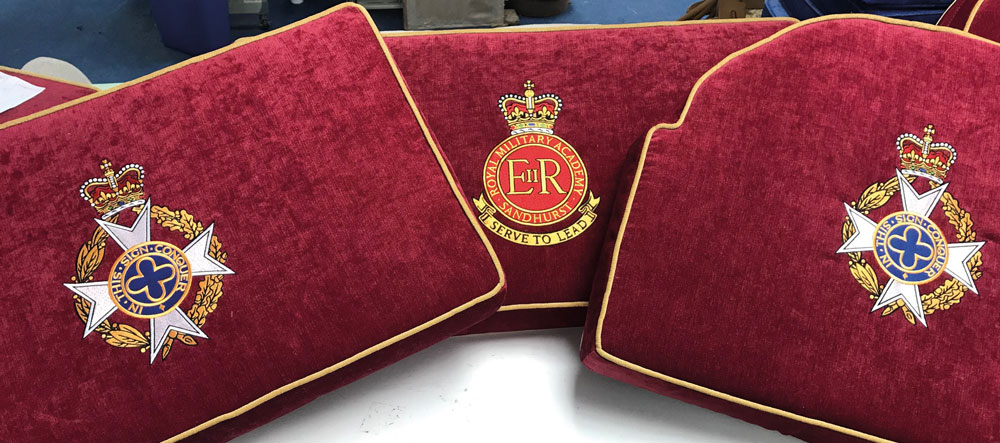 Royal Military Acadamy
Sandhurst, Berkshire
Crantock Church
Newquay, Cornwall
All Saints Church
London
St James
Chipping Campden, Gloucestershire
All Saint's
Branksome Park, Poole
St John Baptist
Bishop Monkton
St Andrews
Hittisleigh
St Margaret's
Babington, Somerset
St. Lleian's Church
Eglwys
were very pleased with their Embroidered Communion Rail Kneelers that we recently produced for them at the beginning of the year.

Cornerstone Church
Torpoint
Thank you so much for your help in supplying our kneelers. They look good, as you can see from these photographs. With grateful thanks.
St Mark's Church
Armagh, Northern Ireland
St Mary's Church
Wargrave, Berkshire
Jesus Fellowship Church
Northants
quoted "The pew cushion arrived yesterday and looks wonderful!" They sent us the two images above to show how it looks in situ.
St Cadoc's, Penrhos
near Monmouth –
The Church Wardens were delighted to see the arrival of made-to-measure pew seats that had been kindly commissioned by an anonymous donor! We often come across this type of situation and so we are well versed in dealing with orders confidentially, when required! They commented: "Dear Julie, The pew cushions look beautiful and make our little Church look a lot more inviting. They were very much admired on Sunday and all agreed were very comfortable, and much warmer to sit on!"
Orange Street Congregational Church
Leicester Square, Central London
A fascinating 300 year old Church in about 'as hard to deliver to' location that it would be possible to find! Despite the Central London Traffic Wardens our delivery arrived safe and sound, to much praise from the Church Warden!
Tickhill Methodist Church
Doncaster
We were pleased to receive this kind e-mail and accompanying photograph of our work, safely in place. "Many thanks for the work which you have put into our church cushions. They have been very well received and as you can see, they blend in so well with our colour scheme. Many thanks, once again, for the quality of work and the speedy processing. Kind regards to all."
Church of St John the Baptist
Danbury
"Just to say thank you for your help with organising our church pew cushions which have just arrived. They fit perfectly and I think have much enhanced the look of our nave and choir stalls. I hope the rest of the congregation agree when they see them on Sunday! Hopefully we shall soon be able to sort out an order for the pews in our North aisle."
St Ninian's Cathedral
Perth
"The kneelers look very good and are a welcome addition to the Cathedral. I have had nothing but good reports since they were installed. A little bit of height and comfort has made all the difference."
St Bartholomew's Church
Oakridge
"Thank you for your helpful and efficient handling of our order."
We also create pew cushions for private individuals!
St Mary's
Wotton-under-Edge
"Very many thanks for the safe delivery of the kneeler now in use at St Mary's. We are very pleased with the quality and rapid delivery plus it is always good to deal with a local supplier and to support the local economy."
St Peter's Church
Bristol
"We are delighted with the cushions you have made for the window seats in the Lady Chapel. Lots of people sat on them yesterday and said how comfortable and well made they are."
Midmar Church
Aberdeenshire
" Everyone is delighted with our new cushions."
Saint Leonard
Heston, Hounslow
"Many, many thanks. They are just the right thickness and are very much appreciated by all the Congregation. – Comfort at last! Thank you again for your service and fine workmanship."
St Dominic's Church
Stone, Staffs
"Please see the picture of our beautiful Church which is greatly enhanced by your lovely cushions. We had a wonderful celebration with our Pilgrimage and have had many compliments about them. Thank you so much for your excellent service. Bye & God bless"
Father Doyle, September 2013
St Peter's Church
Babraham
St. Colman's Church
Carrickfergus
Embroidered Church Kneelers for a wedding
A Bishop's chair and and embroidered altar rail kneelers
St Mary's Church
Hadlow
"I took some photos so that you could see the kneelers in situ. They had their first use at the dawn service on Easter Day! I have heard nothing but praise for the kneelers, their appearance and comfort!"
Mrs J Gater
St Peter's Church
Ely
"Many thanks for the recent delivery of pew cushions for St Peter's."
Suzanne Lindsay, on behalf of St. Peter's
St George's
Campden Hill
"We are very pleased with your completion of the order we gave you in September. They are well made, robust, good materials, completed on time, despatched and received efficiently. The price was very reasonable and many if not all of them were sponsored by members of the congregation who are very pleased with them. Please feel free to use us a reference should you need one."
A. Lascelles
Catholic Church of Christ the King
Stafford Methodist Church
St Mary Redcliffe Church
Bristol
St Marks Church
Tunbridge Wells
St. Augustines Church
Bexhill-on-Sea, East Sussex
St Alban's Church
Frant, Tunbridge Wells
St. Dunstan's Church
Monks Risborough
St. James the Great
Syresham
St. James Church
St Kew
St Peter and St Paul's Church
Water Orton
Martock United Reformed Church
Somerset
St. Isan Church
Cardiff
St. Mary's
Tenbury Wells
St. Barnabas Church
Winchester
St. Madryn's Church
Trawsfynydd
St John the Baptist Church
Norfolk