IMPORTANT INFORMATION
We hope all our customers, old and new, are safe and well.
We are working under the following new arrangements:
• Our Reception will regrettably NOT be open to visitors; however we still have a 'Drop Off and Collection Point' at the front of our premises.
• Our incoming phone lines are open 10.00am to 1.00pm and 1.30pm to 3.00pm, Monday to Thursday only.
We wish you and yours all the best and hope you can stay safe. We have been in business for 33 successful years and we look forward to serving you for another 33 years!
The Church Cushion Co. Team
Church Kneelers & Hassocks
We make high quality affordable Church Kneelers/Hassocks in any size and thickness you require and these can be covered in any of our wide range of hard wearing upholstery fabrics.
We are pleased to offer various options when it comes to making your kneelers/hassocks. These include different fabrics and foams and the fitting of 'ears', to aid handling, or 'D-Rings' for easy storage. A Church Kneeler can be fitted with 'ears', to aid handling.
A Church Kneeler can be fitted with 'ears', to aid handling…
…or 'D-Rings' for easy storage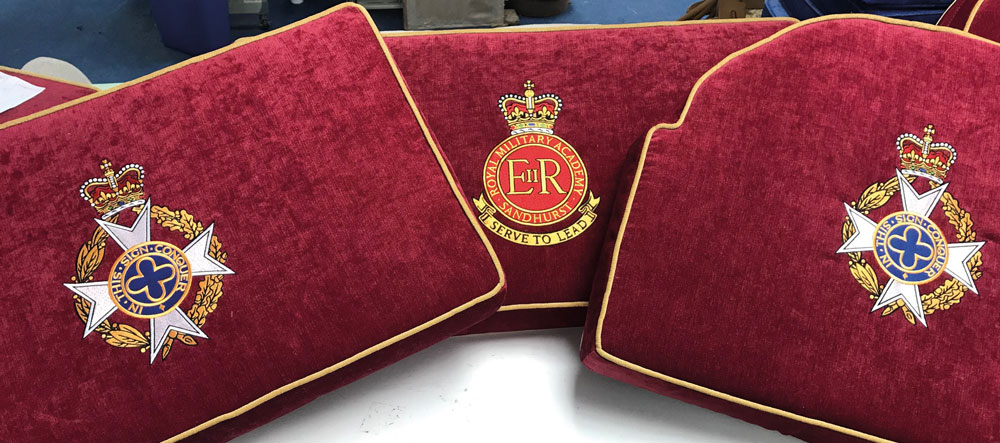 We have a special FREE Kneeler Sample Pack that we'll happily send you without obligation – click here for more deatils.
In addition to making kneelers/hassocks in a variety of plain fabrics, if you have an embroidery requirement, we can help you! We have some embroidery designs already set up on our machine, or if you prefer then we can embroider virtually any design or wording you that you wish… and our minimum order… is just one!
We were very proud to be chosen to create the highly detailed Kneelers shown below in readiness for a very special Centenary, and to receive these lovely photographs and letter below:
Above: The gentleman wearing a Mac is Air Commodore Charles Clarke, President and Chairman of the RAF ex POW Association, also ex 619 Squadron and a POW in Stalag Luft 3 of Great Escape fame. The gentleman to the left of him is Joe Dutton ex 619 Squadron.
"We are now looking forward to the kneelers being on display at the service at St. Clement Danes to commemorate the formation of the RAF. We wish you all the best for the future and thank you for your help with the kneelers."